THE EFFECT OF A NEW COMBINATION OF DIETARY SUPPLEMENTS ON ACTIVITY AND ATTENTION IN AGING DOGS
Description
The Canine Neuro-aging Program at NC State College of Veterinary Medicine is recruiting dogs 10 years of age and older to participate in a study on a combination of anti-aging supplements aimed to improve cognitive function, mobility, and quality of life in older dogs. The basis for this study is rooted in our desire to slow and reverse the effects of aging, an inevitable aspect of our dogs growing older.
Aging occurs when body systems start to decline and fail. This decline can be divided into nine "hallmarks" of aging (López-Otín et al. (2013), (Figure 1).
Some of these hallmarks of aging can be targeted using dietary supplements. In this trial we will be using supplements to target and remove senescent cells, and to boost the levels of NAD within cells. Senescent cells are cells that are no longer healthy, but are accumulating, causing inflammation and aging. More information on senecene and senolytics can be found here. NAD is a component of cells which is key to the vitality and health of those cells. More information on NAD's critical role in cellular metabolism can be found here.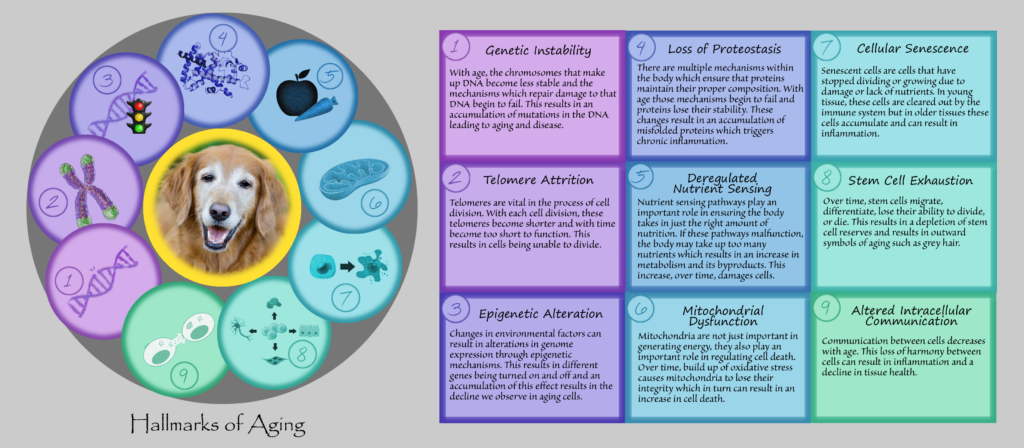 Testing Requirements
• Species: Dog
• Age: 10 years of age or older.
• Size and Breed: 8 – 40kg (18 – 90 lbs), any breed as long as the dog is the right weight.
• Health: Absence of any known health issues that might impact the results of the study or the dog's ability to complete the full study period (6 months) – see the exclusion section for examples of conditions that would prevent participation.
Dogs with stable chronic diseases which are not expected to impact the dog's ability to complete the study may be accepted at the discretion of the researchers (ex. heart murmur without evidence of progression towards heart failure).
If you have specific questions with regards to your dog's eligibility, please reach out to our research group at k9neuroaging@ncsu.edu.
We will need to see blood work (a blood cell count (or CBC) and chemistry panel) performed within the last 6 months to determine whether your dog has problems that might exclude them.
• Mobility: We are recruiting aging dogs with reduced mobility. However, dogs will need to be able to walk independently on a non-slip surface. They do not have to be able to climb stairs or walk on slick floors.
• Cognitive Function: We are recruiting dogs with mild changes in cognition. This will be determined based on owner-completed questionnaires.
• General: All dogs must be able to see, hear and respond to simple commands.
Appointment Flow
What information will be collected?
You will be asked to complete questionnaires on quality of life, arthritis and joint pain, sleep habits, changes in behaviors, sleep patterns, and general questions about lifestyle.
We will perform physical, neurological, and orthopedic examinations – any pertinent findings will be discussed with you after each visit.
We will perform blood work and urine analysis (to evaluate overall health) – a copy will be provided to you for your records.
We will collect information on mobility and stability. This involves your dog walking in a straight line, completing a figure of eight, standing still on a pressure mat, and going up and down stairs (if it is safe for them to do so). Examples of dogs completing these tests can be seen in the videos linked below.
Cognitive testing of attention and problem solving will be conducted. Dogs enjoy this testing, in part because they get a lot of treats, and in part because they seem to enjoy the mental stimulation. Examples of dogs doing the tests can be seen in the videos linked below.
Activity data using a small monitoring device attached to your dog's collar (similar to a fitbit) which tracks how much they get up and move around during the day and night.
Contact
If you wish to enroll your dog in this study and believe they meet the requirements described above, please follow the link below to begin the enrollment survey. The team will contact you based on your answers to the survey as to whether or not your dog is eligible and to schedule their first visit.
Proceed to the Enrollment Survey
Or copy and paste the following URL into your browser: https://ncsu.qualtrics.com/jfe/form/SV_2hFUANOdTXWCjz0
This study is sponsored by Animal Biosciences